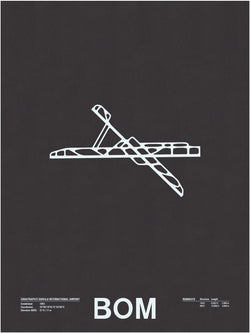 BOM: Chhatrapati Shivaji International Airport Screenprint
Chhatrapati Shivaji International Airport, formerly Sahar International Airport, is the primary international airport in Mumbai, India, and is named after the 17th century Maratha emperor, Chhatrapati Shivaji. The Airport's IATA code – "BOM", is derived from Bombay, Mumbai's former name.
Until and through 2008, it was the busiest airport in India. It has since lost that distinction to Delhi's Indira Gandhi International Airport, which currently makes Mumbai the second busiest airport in India in terms of overall passenger traffic. The airport has five operating terminals spread over an operational area of 1,500 acres (610 ha); CSIA handled 30.74 million passengers and 656,369 tonnes of cargo during FY 2011-12. Along with Delhi's Indira Gandhi International Airport and Chennai International Airport it handles more than half of the air traffic in South Asia. In 2010, CSIA was ranked the 30th busiest airport in the world in terms of cargo with 671,238 tonnes handled. In 2011, the airport was ranked the third-best in the world in the 25–40 million passengers category by Airports Council International. Also in 2011, the airport was the 44th busiest in the world with 30,439,122 passengers handled, registering a 7.6% growth rate over the previous year. It is situated in the suburb of Santa Cruz and the Sahar neighbourhood of Andheri suburb in the pincode area of 400099.
Size: 18" x 24"
Ink: White
Paper: Steel Gray 100# Dur-O-Tone Cover by French Paper Co.
Shipping Notes: All posters are shipped in crush proof recycled cardboard tubes.
Print only, frame not included