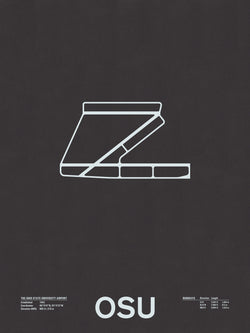 OSU: Ohio State University Airport Screenprint
Ohio State University Airport is a public airport six miles (10 km) northwest of downtown Columbus, in Franklin County, Ohio. It is owned and operated by The Ohio State University in Columbus. It is also known as the OSU Don Scott Airport, named after Donald E. Scott, an OSU alumnus who died during his training as a pilot in England during World War II.
The Ohio State University Airport (OSU) serves the university while offering general aviation services for the public.
The OSU Airport began in 1943 as a flight training facility for military and civilian pilots, operated by the OSU School of Aviation. The OSU Airport is now a self-supporting entity of The Ohio State University through the Department of Aerospace Engineering & Aviation.
The OSU Airport is a Part 139 Certificated Airport, serving as a general aviation reliever for the nearby Port Columbus International Airport.
Size: 18" x 24"
Ink: White
Paper: Steel Gray 100# Dur-O-Tone Cover by French Paper Co.
Shipping Notes: All posters are shipped in crush proof recycled cardboard tubes.
Print only, frame not included