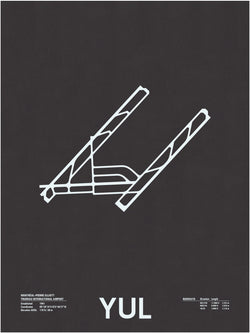 YUL: Montréal–Pierre Elliott Trudeau International Airport Screenprint
Montréal–Pierre Elliott Trudeau International Airport is a Canadian airport located on the Island of Montreal, 20 km (12 mi) from Montreal's downtown core. The airport terminals are located entirely in Dorval, while the Air Canada headquarters complex and one runway is located in Saint-Laurent, Montreal. It is an international airport serving Greater Montreal, along with the regions of northern Vermont and New York. The airport is named in honour of Pierre Elliott Trudeau, the 15th Prime Minister of Canada.
Trudeau is the busiest airport in the province of Quebec, the fourth busiest airport in Canada by passenger traffic and by aircraft movements, with 13,809,820 passengers and 230,619 movements in 2012. It is one of eight Canadian airports with United States border preclearance and is one of the main gateways into Canada with 8,436,165 or 61.7% of its passengers being on non-domestic flights, the highest proportion amongst Canada's airports during 2011.The air route between YUL and Toronto Pearson International Airport is currently the 14th busiest air route in the world, in terms of flights per week, while the air route between YUL and Paris-Charles de Gaulle is the 7th busiest in terms of passengers carried (1.1 million) between Europe and a non-European destination. On an average day, nearly 40,000 passengers transit through Montréal-Trudeau.
Size: 18" x 24"
Ink: White
Paper: Steel Gray 100# Dur-O-Tone Cover by French Paper Co.
Shipping Notes: All posters are shipped in crush proof recycled cardboard tubes.
Print only, frame not included