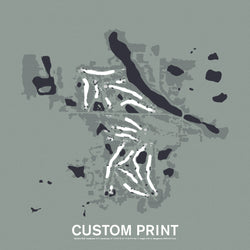 Custom Golf Course Screenprint
Want to sell prints of your course in your pro shop? Country club or league member and want to give the best gifts? Here's where to get started.
For $750 you will receive 25 prints of your golf course (or any combination of 25 prints from our currently available selection). Just let us know during checkout which ones you'd like or we'll follow up with you after your order. Want to order more than 25, send us a message at info@nomodesign.com
Size: 24" x 24"
Ink: 3-Color Screenprint 
Paper: Carbon Copy Kraft-Tone 100# Cover by French Paper Co.
All posters are shipped in crush proof recycled cardboard tubes.
Please allow approximately 5 weeks for custom order delivery.