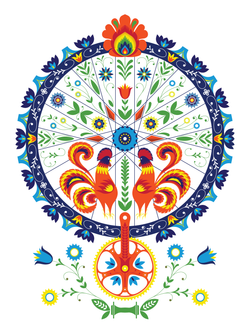 ARTCRANK Chicago 2014 Screenprint
I was invited to be part of 2014 ARTCRANK Chicago, a bicycle-inspired poster show.
Entitled "Chodźmy na rower", I wanted to tap into both my Polish ancestry and Chicago's Polish heritage. The poster is based off traditional Polish folk-art "Wycinanki", the Polish word for 'paper-cut design'. This print combines the Kurpie cut out style - usually a symmetrical design, cut from a single piece of colored paper and a style traditional to the Lowicz area - distinguished by the many layers of brightly colored paper. A few prints remain from the show and are available here.
Edition: Limited Edition Series
Numbered 1-30 and signed
20 Artist proofs are also available, marked "AP" and signed
Size: 18" x 24"
Ink: 6-color Serigraph
Paper: 100# Pure White Construction by French Paper Co.
Shipping Notes: All posters are shipped in crush-proof recycled cardboard tubes.