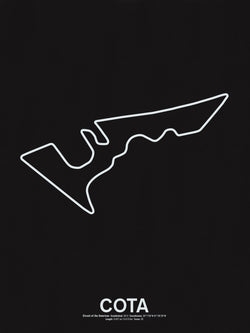 Circuit of the Americas Screenprint
Circuit of the Americas (CoTA) is a 3.427-mile (5.515 km) motor racing circuit in Austin, Texas. It hosted the Formula One United States Grand Prix in 2012 and 2013. The circuit also hosts the Motorcycle Grand Prix of The Americas, a round of the Road Racing World Championship, commonly known as MotoGP, the FIA World Endurance Championship, as well as the Tudor United SportsCar Championship. It previously hosted the Australian V8 Supercars series, the American Le Mans Series, and the Rolex Sports Car Series in 2013.
The circuit and Grand Prix were first proposed in the middle of 2010. The circuit was the first in the United States to be purpose-built for Formula One. The layout was conceived by promoter Tavo Hellmund and 1993 Motorcycle World Champion Kevin Schwantz with the assistance of German architect and circuit designer Hermann Tilke, who has also designed the Sepang, Shanghai, Yas Marina, Istanbul, Bahrain, Yeongam, and Buddh circuits, as well as the reprofiling of the Hockenheimring and Fuji Speedway. The Grand Plaza, Observation Structure, Tower Amphitheater, and Main Grandstand were designed by Austin-based architectural firm Miró Rivera Architects.
Road America is one of only a handful of road circuits in the world maintaining its original configuration being 4.048 miles (6.515 km) in length and 14 turns. The track features many elevation changes, along with a long front stretch where speeds approaching 200 mph (320 km/h) may be reached. One of the best known features of this course is a turn on the backside known as "the kink."
Size: 18" x 24"
Ink: White
Paper: Blacktop 100# Construction Cover by French Paper Co.
Shipping Notes: All posters are shipped in crush proof recycled cardboard tubes.
Print only, frame not included
Not a product of or associated with Circuit of the Americas, Formula One, Tudor, MotoGP, FIA, Le Mans, Rolex Sports Car Series, sponsors, owners or licensees.