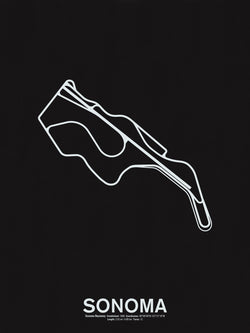 Sonoma Raceway Screenprint
Sonoma Raceway, formerly Sears Point Raceway and Infineon Raceway is a 2.52-mile (4.06 km) road course and drag strip located on the landform known as Sears Point in the southern Sonoma Mountains in Sonoma, California, USA. The road course features 12 turns on a hilly course with 160 feet (49 m) of total elevation change. It is host to one of only two Monster Energy NASCAR Cup Series races each year that are run on road courses (the other being Watkins Glen International in Watkins Glen, New York). It is also host to the Verizon IndyCar Series and several other auto races and motorcycle races such as the American Federation of Motorcyclists series. Sonoma Raceway continues to host amateur, or club racing events which may or may not be open to the general public. The largest such car club is the Sports Car Club of America.
Size: 18" x 24"
Ink: White ink
Paper: Blacktop 100# Construction Cover by French Paper Co.
Shipping Notes: All posters are shipped in crush proof recycled cardboard tubes.
Not a product of or associated with Willow Springs International Motorsports Park, sponsors, owners or licensees.