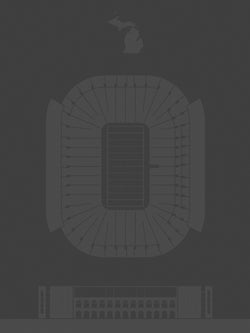 Custom Stadium Screenprint
Do we print every stadium? No. Will we print the one you want? Yes.
Often there isn't enough demand to do a full run of the stadium you really want, so we created the custom print option. 
Now you can have your stadium added to the series, with your state stadium plan and elevation. For $250 you will receive 1 print of your stadium + 4 other prints of your choice from our currently available selection (or you can just choose 4 prints of your stadium). Just let us know during checkout which ones you'd like. We'll also follow up with you to confirm your order and go through ink and paper options.
Size: 18" x 24"
Ink: 1 color, to be determined
Paper:  Color to be determined, 100#  Cover by French Paper Co.
Shipping Notes: All posters are shipped in crush proof recycled cardboard tubes.
Print only, frame not included
Please allow approximately 4-8 weeks for printing plus delivery time of custom prints.