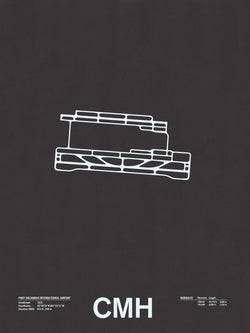 CMH: Port Columbus International Airport Screenprint
Port Columbus International Airport, commonly shortened to Port Columbus, is a Class C international airport located 6 miles (9.7 km) east of downtown Columbus, Ohio, USA. It is managed by the Columbus Regional Airport Authority, which also oversees operations at Rickenbacker International Airport and Bolton Field. The airport code 'CMH' stands for "Columbus Municipal Hangar," an old name for the airport.
Port Columbus is primarily a passenger airport. It provides 151 non-stop flights to 34 airports via 15 airlines daily. Traffic reached 6,355,974 passengers in 2014, a 2.1% increase over the previous year. According to a 2005 market survey, Port Columbus attracts about 50% of its passengers from outside of its 60-mile (97 km) radius primary service region. In addition, the airport also handles freight and US mail, with 10,411,920 units of freight and 8,537,279 units of mail passing through in 2006.
Port Columbus is known for displaying community artwork, including children's drawings, a photographic timeline, and other donated items. Most recognized is Brushstrokes in Flight, a sculpture located inside the terminal atrium designed by Roy Lichtenstein.
Size: 18" x 24"
Ink: White
Paper: Steel Gray 100# Dur-O-Tone Cover by French Paper Co.
Shipping Notes: All posters are shipped in crush proof recycled cardboard tubes.
Print only, frame not included