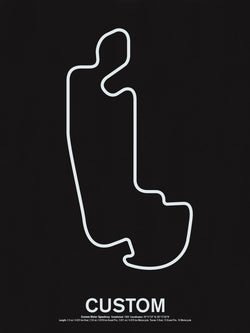 Custom Racetrack Screenprint
Do we print every racetrack? No. Will we print the one you want? Yes.
Often there isn't enough demand to do a full run of the track you really want, so we created the custom print option. 
Now you can have your racetrack added to the series. For $250 you will receive 1 print of your racetrack + 4 other tracks of your choice from our currently available selection. Just let us know during checkout which ones you'd like or we'll follow up with you after your order. 
18" x 24"
White ink
Blacktop Construction 100# Dur-O-Tone Cover by French Paper Co.
All posters are shipped in crush proof recycled cardboard tubes.
Please allow approximately 4 weeks for printing plus delivery time of custom prints.