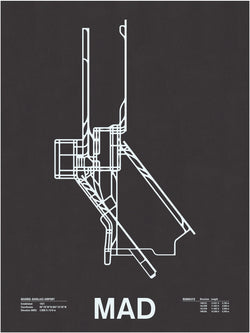 MAD: Madrid–Barajas Airport Screenprint
Madrid–Barajas Airport is the main international airport serving Madrid in Spain. In 2011 and 2010, over 49 million passengers used Madrid-Barajas, making it the country's largest and busiest airport, and in 2013 it was Europe's sixth busiest airport. It opened in 1928, and has grown to be one of the most important aviation centres of Europe. Located within the city limits of Madrid, just 9 km (5.6 mi) from the city's financial district and 13 km (8.1 mi) northeast of the Puerta del Sol, Madrid's historic centre. The airport name derives from the adjacent district of Barajas, which has its own metro station on the same rail line serving the airport.
The Madrid–Barcelona air shuttle service, known as the "Puente Aéreo" (in Spanish), literally called "Air Bridge", is the second busiest air route in Europe after İstanbul Atatürk and İzmir, with the highest number of flight operations (55 daily) in 2012. The schedule has been reduced since February 2008, when the Madrid–Barcelona high-speed rail line was opened, covering the distance in 2½ hours, and quickly became popular. Barajas serves as the gateway to the Iberian peninsula from the rest of Europe and the world, and is a particularly key link between Europe and Latin America. The airport is the primary hub and maintenance base for Iberia. Consequently, Iberia is responsible for more than 60 percent of Barajas' traffic.
Size: 18" x 24"
Ink: White
Paper: Steel Gray 100# Dur-O-Tone Cover by French Paper Co.
Shipping Notes: All posters are shipped in crush proof recycled cardboard tubes.
Print only, frame not included