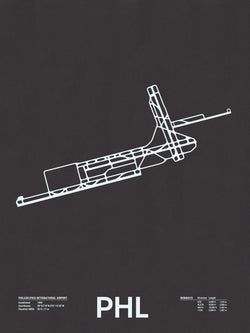 PHL: Philadelphia International Airport Screenprint
Philadelphia International Airport, often referred to just by its IATA code PHL, is a major airport in Philadelphia, Pennsylvania, United States, and is the largest airport in the Delaware Valley region and in the state. The airport is a major international hub for American Airlines' merger partner, US Airways, and has service to destinations in the United States, Canada, the Caribbean, Latin America, Europe and the Middle East. Most of the airport property is located in Philadelphia proper. The international terminal and the western end of the airfield are located in Tinicum Township, Delaware County.
Starting in 1925 the Pennsylvania National Guard used the PHL site (known as Hog Island) as a training airfield. The site was dedicated as the "Philadelphia Municipal Airport" by Charles Lindbergh in 1927, but it had no proper terminal building until 1940; airlines used the airfield (at 39.930°N 75.078°W) in nearby Camden, New Jersey. Once Philadelphia's terminal was completed (on the east side of the field) American, Eastern, TWA and United began flights.
Size: 18" x 24"
Ink: White
Paper: Steel Gray 100# Dur-O-Tone Cover by French Paper Co.
Shipping Notes: All posters are shipped in crush proof recycled cardboard tubes.
Print only, frame not included