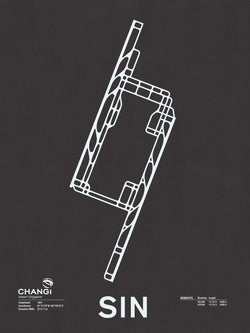 SIN: Singapore Changi Airport Screenprint
Singapore Changi Airport, or simply Changi Airport, is the primary civillian airport in the Republic of Singapore, and one of the largest transportation hubs in Southeast Asia and the greater India region. It is located approximately 17.2 kilometres (10.7 mi) northeast from the commercial centre in Changi, on a 13-square-kilometre (5.0 sq mi) site. The airport, operated by the Changi Airport Group, is the home base of Singapore Airlines, Singapore Airlines Cargo, SilkAir, Scoot, Tigerair and Jetstar Asia Airways.
Changi Airport serves more than 100 airlines flying to some 300 cities in about 80 countries and territories worldwide. Each week, about 6,500 flights land or depart from Changi, with more than 54.1 million passengers passing through the airport in 2014.
Changi Airport has three passenger terminals with a total annual handling capacity of 66 million passengers. Terminal 1 opened in 1981, followed by Terminal 2 in 1990 and Terminal 3 in 2008. The Budget Terminal, opened on 26 March 2006 and closed on 25 September 2012, will make way for Terminal 4 which will be ready by 2017.[4] Changi Airport Terminal 5 is set to be ready in mid-2020s which will be able to handle 50 million passenger movements per annum.
Size: 18" x 24"
Ink: White
Paper: Steel Gray 100# Dur-O-Tone Cover by French Paper Co.
Shipping Notes: All posters are shipped in crush proof recycled cardboard tubes.
Print only, frame not included