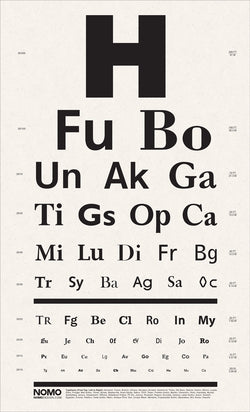 Typographic Snellen Chart Print
Test your typographic acuity with the Typographic Snellen Chart. This print, based on chart developed by the Dutch ophthalmologist Herman Snellen in 1862. 55 of the most widely used typefaces are set in order from the most popular, decreasing in size based on their use and familiarity. The typefaces are alpha-coded and set in their respective typeface. 
8.5"W x 14"H
Laser print on 80# Cover weight, True White Speckletone by the French Paper Co.
Shipped in a cardboard mailer