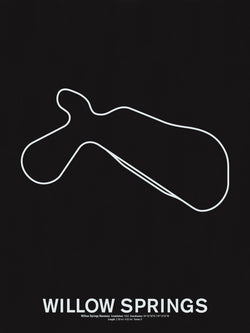 Willow Springs Raceway Screenprint
Willow Springs International Motorsports Park is located in Willow Springs near Rosamond, California, about an hour north of Los Angeles. It is the oldest permanent road course in the United States. Construction began in 1952, with the inaugural race held on November 23, 1953. Willow Springs hosted the first NASCAR events west of the Mississippi. The main track is a 2.5-mile (4.0 km) long road course that is unchanged from its original 1953 configuration. The elevation changes and high average speeds make it a favorite of many road racing drivers.
Willow Springs Raceway is a 2.5 mile paved road course consisting of 9 turns.
Turn 1: "Castrol corner" is a 90-degree high-speed left-handed turn.
Turn 2: "The Rabbits Ear" is a double apex sweeping turn
Turn 3/4: "The Omega" is an uphill and downhill section with a camber change.
Turn 5: A quick left-handed turn that sets up for the fastest sections of the track.
Turn 6: Monroe Ridge
Turn 7: Repass Pass
Turn 8: Sometimes called, "The Sweeper," turn 8 is a high speed right hand corner. The lead-in to this turn is the fastest section of the racetrack.
Turn 9: A right handed turn with a big dip before the apex. This is the final turn before the front straightway to the finish line.
Size: 18" x 24"
Ink: White ink
Paper: Blacktop 100# Construction Cover by French Paper Co.
Shipping Notes: All posters are shipped in crush proof recycled cardboard tubes.
Not a product of or associated with Willow Springs International Motorsports Park, sponsors, owners or licensees.